UK's Largest Independent Athlete Support Programme Strikes Gold For Community Sport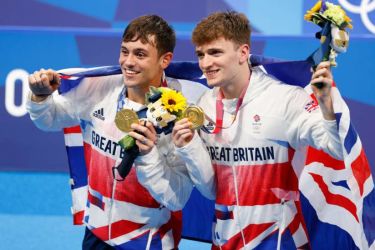 The welcome home celebrations held across the UK for Team GB's & Team Ireland's Tokyo Olympic Games heroes have also been championed by the UK's largest independent athlete support programme - the GLL Sport Foundation.
The culmination of 13 years and £12m of investment given to supporting talented local athletes – saw a total of 17 medals won at the Japan showcase from a group of sixty three competing athletes who received support from the GLL Sport Foundation.
3,000 talented athletes are funded annually by the GLL Sport Foundation (GSF) programme of which an incredible 97% receive no other funding or support. The support has provided a lifeline to the athletes and an inspiration to other young people in local communities. 
The GSF is the brain-child of GLL, the largest UK-based charitable social enterprise delivering sport, leisure, culture, health and community facilities.
In partnership with SportsAid, the Foundation works directly with the established national 'talent pathways' of Sport National Governing Bodies, local authorities and local sports charities who partner the scheme across the UK.
GLL operates 260 sport and leisure facilities across the UK in partnership with 42 local authorities in Belfast, Cardiff and London – and spanning England from Carlisle to Cornwall - under the Better brand.  Each one offers personal fitness and wellbeing – with gym, swim, classes, courts and pitches to enjoy, indoors and out – or family fun during summer staycations at lidos, trampoline parks and Watersport centres.
They also provide a training ground for talented athletes heading to national and international competition.
Because GLL is a charitable leisure social enterprise, it seeks to reinvest part of its operating surpluses into grassroots sports development, concessions and uniquely impactful programmes, including the GLL Sport Foundation (GSF).
The athlete awards cover Olympic, Paralympic, Deaflympic, Special Olympic and Commonwealth sporting disciplines.
With and the majority of award recipients receiving no other sport funding and 63% of recipients being aged under 21, the GLL Sport Foundation addresses a vital funding gap for young talented athletes currently competing and National and International levels.
Chosen athletes receive financial bursaries and free training memberships to use leisure centre facilities across 260 plus GLL and partner-operated sporting venues. 
GLL Deputy CEO and Chair of the GLL Sport Foundation Peter Bundey said: "Congratulations to all athletes competing at the Tokyo Olympics and especially to our Foundation competitors and medal winners.
"We are proud to support so many talented athletes. They are an inspiration and exemplify the best in our centres and the true community spirit of our social enterprise."
"Our customers can be proud of the difference they are making because their visit helps sponsor a young athlete on their sporting journey which has been nurtured – or in many cases has started - in one of our pools, courts, tracks or gyms.
"It's never been a better time for young people to get involved in sport for their fitness and wellbeing and GLL is working with our sports partners and local authorities to make this a reality with a wide offer of accessible sports and leisure in convenient locations across the country."
Amongst the GLL Sport Foundation athletes that have enjoyed incredible success are; Divers Tom Daley and Matty Lee; BMX Freestylist Charlotte Worthington and Swimmer Tom Dean
GSF Award Holder Tom Dean, successful 2 time Gold Olympic medallist in the swimming pool said:  "I am proud to be supported by a Foundation that has helped so many talented athletes along their journey."
GSF Award Holder Charlotte Worthington who amazed the nation with BMX Freestyle Gold said: "I want to inspire people to get into BMX freestyle or sport in general, especially girls. 
GSF Patron and former Olympic Champion Sally Gunnell OBE said: "It's a fantastic achievement for the GLL Sport Foundation to have provided 63 Olympic athletes with support through their journey to Tokyo.
"It is a testament to the hard work athletes put in daily and highlights the impact that the support of programmes such as this can have.
"All eyes now turn to the Tokyo Paralympics, starting 24 August, where the GLL Sport Foundation will have nearly 40 supported athletes competing".
Paralympian Vanessa Wallace, Shot Put Seated Throw said: "I have now secured my place in Tokyo and have my sights set on a podium finish at the Paralympic Games.
"The GLL Sport Foundation has contributed significantly towards me being able to continue my journey to qualify for the Paralympics GB team for Tokyo 2020."
Full list of GLL Sport Foundation Olympians and medallists:
Tom Dean, 200m freestyle swimming & 4 x 200m freestyle relay – Gold x2
Calum Jarvis, 4 x 200m freestyle swimming relay – Gold
Alex Yee, Triathlon & mixed relay triathlon – Silver and Gold
Tom Daley, 10m synchronise diving & 10m individual diving – Gold and Bronze
Matty Lee, 10m synchronise diving - Gold
Anna Hopkin, Mixed medley swimming relay – Gold
Charlotte Worthington, BMX Freestyle – Gold
Joe Choong, Modern Pentathlon – Gold
Harry Leask men's quadruple sculls rowing – Silver
Luke Greenbank, Backstroke &4 x 100m medley relay – Bronze & Silver
Aidan Walsh, Boxing welterweight - Bronze
Oliver Wynne-Griffith, rowing eight – Bronze
Amelie Morgan, Gymnastic team all-around – Bronze
Sarah Jones, Leah Wilkinson and Izzy Petter – Bronze
Asha Philip and Daryll Neita, 4 x 100m relay - Bronze
Currently supported GSF athletes have managed to beat the previous Olympic medal haul in Rio of 7 with 11 in Tokyo.
That total rises to 17 when all athletes who have received GSF support over their career are included.
Tokyo Olympics Medal Table
If GLL Sport Foundation were a country, it would sit 14th.
| | | | | | |
| --- | --- | --- | --- | --- | --- |
| Pos. | Country | G | S | B | Total |
| 1 | United States | 39 | 41 | 33 | 113 |
| 2 | China | 38 | 32 | 18 | 88 |
| 3 | Japan | 27 | 14 | 17 | 58 |
| 4 | Great Britain | 22 | 21 | 22 | 65 |
| 5 | ROC | 20 | 28 | 23 | 71 |
|   |   |   |   |   |   |
| …14 | GLL Sport Foundation | 7 | 4 | 6 | 17 |
Medals counted per event not per athlete – i.e. 2 athletes in relay team counted as 1 medal.
Athlete list
| | | | |
| --- | --- | --- | --- |
| Athlete | Partnership | Sport | Team |
| Aiden Walsh | Belfast | Boxing | Team Ireland |
| Andrea Spendolini-Sirieix | Crystal Palace | Diving | Team GB |
| Asha Philip | Waltham Forest | 4 x 100m | Team GB |
| Ashleigh Nelson | Waltham Forest | 4 x 100m | Team GB |
| Ben Fletcher | Belfast | Judo | Team Ireland |
| Calum Jarvis | Bath | Swimming | Team GB |
| Cameron Chalmers | Bath | 4x400m | Team GB |
| Caroline Dubois | Greenwich | Boxing | Team GB |
| Charlotte Worthington | Manchester | BMX Freestyle | Team GB |
| Charlotte Wubben-Moy | Tower Hamlets | Football | Team GB |
| Daryll Neita | Greenwich | 4 x 100m | Team GB |
| Eden Cheng | Crystal Palace | Diving | Team GB |
| Emily Craig | South Ox | Rowing | Team GB |
| Grace Reid | QEOP | Diving | Team GB |
| Graeme Thomas | South Ox | Rowing | Team GB |
| Harriet Jones | Cardiff | Swimming | Team GB |
| Harry Leask | South Ox | Rowing | Team GB |
| Jack Mcmillan | Belfast | Swimmer | Team Ireland |
| Jake Heyward | Cardiff | 1500m | Team GB |
| James Cooke | Bath | Modern Penthalon | Team GB |
| Jessie Knight | Epsom | 400m Hurdles | Team GB |
| Joanna Muir | Bath | Modern Penthalon | Team GB |
| Josesph Choong | Bath | Modern Penthalon | Team GB |
| Kirsty Hegarty | Belfast | Shooting | Team GB |
| Lauren Williams | Bath | 400m Hurdles | Team GB |
| Leah Wilkinson | Epsom | Hockey | Team GB |
| MARCUS MEPSTEAD | Barnet | Fencing | Team GB |
| Matty Lee | QEOP | Diving | Team GB |
| Megan Fletcher | Belfast | Judo | Team Ireland |
| Michaela Walsh | Belfast | Boxing | Team Ireland |
| Niclas Baker | Crystal Palace | 4x400m | Team GB |
| Noah Williams | QEOP | Diving | Team GB |
| Oliver Dustin | Allerdale | 800m, 1500m | Team GB |
| Paul Pollock | Belfast | Marathon | Team Ireland |
| Sarah Jones | Epsom | Hockey | Team GB |
| Scarlett Mew Jensen | QEOP | Diving | Team GB |
| Scott Lincoln | York | Shot Put | Team GB |
| Shirely Mckay | Belfast | Hockey | Team Ireland |
| Thomas Dean | South Bucks | Swimming | Team GB |
| Tom Daley | QEOP | Diving | Team GB |
| Zoe Smith | Greenwich | Weightlifting | Team GB |
| Dina Asher-smith | Greenwich | 200m | Team GB |
| Reece Prescod | Waltham Forest | 200m | Team GB |
| Luke Greenbank | Allerdale | Swimmer | Team GB |
| Mathilda Hodgkins Byrne | South OX | Rower | Team GB |
| Charlotte Hodgkins Byrne | South OX | Rower | Team GB |
| Anna Hopkin | Bath | Swimmer | Team GB |
| Patrick Huston | Belfast | Archery | Team GB |
| Fran Kirby | Reading | Football | Team GB |
| Amelie Morgan | Reading | Gymnstics | Team GB |
| Izzy Petter | Epsom | Hockey | Team GB |
| Joe Salisbury | Merton | Tennis | Team GB |
| Katherine Torrance | QEOP | Diving | Team GB |
| Aimee Willmott | QEOP | Swimmer | Team GB |
| Kimberley woods | Rugby | Canoe Slalom | Team GB |
| Oliver Wynne-Griffith | South OX | Rower | Team GB |
| Jona Efoloko | Manchester | 4x100m | Team GB |
| Alex Wright | Belfast | Race Walking | Team Ireland |
| Brendan Irvine | Belfast | Boxing | Team Ireland |
| Tin Tin Ho | Tower Hamlets | Table Tennis | Team GB |
| Alex Yee | Crystal Palace | Triathlon | Team GB |
| Alexandra Bell |   | 800m | Team GB |
| Imani-Lara Lansiquot | Sutton | 4 x 100m | Team GB |
| Lawrence Okoye | Croydon | Discuss | Team GB |