Waterfront Leisure Centre pool re-opens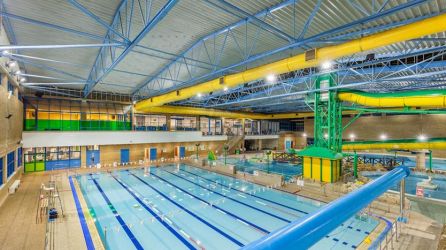 Phase One of the urgent works to Waterfront Leisure Centre's fitness pool have been completed, allowing it to re-open to the public at 2pm on Thursday 20 February following its temporary closure on 8 February.
The multi-lane slide will also be returned to operation but the rest of the pool hall – including the leisure pool and anaconda flume - will remain closed for now.
Swimming activities in the fitness pool will be reprogrammed to prioritise fun sessions for the remainder of the school half term.
From Monday 24 February a new fitness pool programme will be in place, prioritising school lessons and Better Swim School during the day, with public provision in the early morning, at lunchtime and in the evening. In the meantime, swimming lesson customers will be contacted directly with an update on their lessons.
Phase Two will see works to boilers, air handling units and roof repairs, as well as improvements to the changing facilities. The works form part of a joint £1.4m investment from GLL and Royal Borough of Greenwich and will enable the centre to remain open until its brand new town centre replacement is completed in five years time.
A further closure of the full pool hall will be required in the coming months to allow Phase Two works to be completed, during which time swimming lesson customers will be relocated to alternative facilities.
It is expected that all repairs will be completed prior to the summer holidays.
Mark Sesnan, CEO of GLL which runs the Better Waterfront Leisure Centre said: "We apologise to customers who have not been able to swim at the Waterfront for the last fortnight.
"We've worked with Royal Borough of Greenwich to relocate the swimming programme to prioritise getting the fitness pool re-opened so residents can get back into the pool as quickly as possible.
"Our team are looking forward to welcoming customers back."
For more information and the latest swimming pool timetables, please visit www.better.org.uk/waterfront