Finchley Lido Lifesavers honoured at the Prestigious SADS UK National Lifesaver Defibrillator Awards, held at the Royal College of Nursing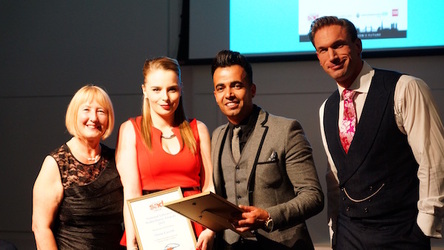 The annual National Lifesaver Defibrillator Awards hosted by the national cardiac charity SADS UK honours people in the community who've saved lives. Dr Christian Jessen, the presenter of Channel 4's BAFTA-winning Embarrassing Bodies was delighted to present Lifesaver Awards to Osam Layeth and Chloe O'Grady, Lifeguards at Finchley Lido.
Osam Layeth and Chloe O'Grady, who are employed by charitable social enterprise GLL, accepted the prestigious SADS UK National Lifesaver Awards at a celebratory dinner attended by the Resuscitation Council (UK), cardiologists, paramedics, nurses and doctors.
Osam was on duty when he noticed a lady stop swimming, he ascertained she was in cardiac arrest and put his lifesaving skills into action.  He immediately started CPR and called for someone to call the emergency services and bring the Lido's defibrillator back to him.  Whilst Osam was carrying out CPR, Lifeguard Chloe O'Grady attached the defibrillator pads and three therapeutic shocks were administered prior to the arrival of the ambulance service.
London Ambulance Service advanced paramedic Chelsey Pike, who was in the ambulance response team, said: "If it hadn't been for the lifeguards, who promptly recognised that she was in cardiac arrest and immediately treated her, it's unlikely that she'd be alive today. The lifeguards were excellent. They saved her life."
Anne Jolly, Founder of SADS UK says: "It is good to hear that lifesaving action was taken so quickly, early CPR and defibrillation are absolutely vital when a person suffers a cardiac arrest.  The incident proves how important it is for lifesaving skills to be learnt and defibrillators to be readily available.  There is no doubt that working together the duo saved this young lady's life."
Gillan Kelly, GLL Partnership Manager added: "Our lifeguards attend regular training in line with Royal Life Saving Society recommendations, to ensure that they are equipped with the required knowledge and skills to supervise our pools and respond to emergency situations if required.
"Everyone at GLL is incredibly proud of the staff at Finchley Lido, who in the face of a potentially life threatening incident calmly and effectively put their training into practice.
"The team's actions on the day were superb and significantly increased the casualty's chances of survival.  It was gratifying to find out that she went on to make a full recovery."