For The Girls Programme Achieves Project Targets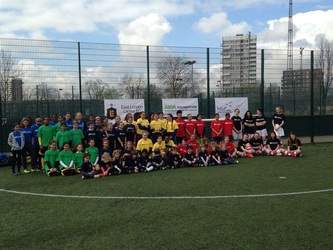 The For The Girls Programme is a Sporta funded programme that has been delivered in Cambridge, Hackney, Greenwich, South Oxfordshire and Tower Hamlets over the last 2 years.
GLL were awarded £192,975 to deliver the project. Over the 2 years, 5,300 women and girls have taken part in the project with over 45,000 visits. A dedicated Women and Girls Programme has been set up in each partnership and the sessions have become embedded within centre programmes.
Sessions have also been set up in the Children's Centres in Greenwich, as well as community venues and schools in other areas. Workshops and focus groups informed the sessions that were included in the programme, with activities including: Active Gym; Aqua Jogging; Athletics; Badminton; Basketball; Bokwa; Bootcamp; Boxercise; Brazilian Dance; Buggyercise; Circuits; Dance Aerobics; Football; Group Cycle; Hip Hop Dance; Hula Hooping; Insanity; Netball; Pilates; Rugby; Rebounding; Running; Swimming; Street Dance; Squash; Water Workout; Volleyball; and Yoga.
The project included researched on the barriers and motivations to exercise. Lack of spare time was by far the most commonly identified barrier, while other common responses included: cost; poor health; no one to take part with; and low self esteem.
Individual motivations to take part included:
Fun
Improve health
Challenge myself
Lose weight 
Meet new people 


Katie Ellis, National Targeted Intervention Manager, said, "The programme has been hugely successful with 95% of women continuing to exercise after taking part in the project. 12% of participants were previously inactive. One participant even said, "For the girls has really changed my life and I feel like a whole new person".
One of the activities GLL have supported as part of the For The Girls programme is a Women and Girls football tournament, hosted at Mile End Park Leisure Centre, in Tower Hamlets, by East London Ladies on Friday 8th April.
GLL are committed to supporting more women to be active and have linked with local football clubs to help raise the profile of Women's Football.