GLL's emergence in British Tennis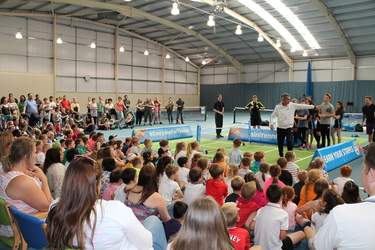 British Indoor Tennis is changing for the BETTER
Tennis is on the up in Britain. A Davis Cup win for GB in 2015 and five trophy wins at this year's Wimbledon Championships. So what does the future of British Tennis hold? Often the governing body has been questioned on where the next generation of players are coming from. There is a lot of work to be done, change will not be instant and the foundations of grass roots tennis needs to go through a renaissance. There is however a dramatic change happening relatively unnoticed behind the scenes in public indoor tennis, which can have a significant impact on tennis for years to come. This change comes in the shape of charitable social enterprise GLL and their Better Leisure Centres.
Two years ago, GLL only operated one indoor tennis venue, Islington Tennis Centre. In the last 12 months this has jumped to eight indoor tennis venues ranging from grass roots community venues to Gosling Sports Park and the most recent acquisition, Sutton Sports Village. Both of these venues have a reputation for developing and training world class players. In addition to these venues, GLL operate 200 other courts across parks and leisure centres throughout the UK. GLL have now positioned themselves as the largest public tennis operator in the UK. This has raised some eyebrows and obviously the question is then asked why? Why are GLL so ambitious in this sector when running public indoor tennis centres can be very difficult to do? Running costs are high for these venues and financial returns limited; and in many cases local authorities and trusts are considering their options when it comes to their indoor centres.
Barry Cawte National Tennis Manager for GLL explains:
"We believe these indoor facilities have the potential to be real tennis hubs in their communities, linking to parks and community tennis. We have a model in place that allows us to create long term sustainability at these venues by providing the right programmes and opportunities to get more people playing tennis more often.
"Through our partnership with the LTA and Tennis Foundation we are ensuring tennis at these venues and wider is protected and is allowed to flourish. Significantly, all of our venues will be pay and play. I think its essential people from all backgrounds feel they can access tennis. Our tennis network now allows a player who may have started by hitting a ball around in one of our park courts to go through the player journey to the top of the game. Our large size means we have the resources to achieve that."
It is apparent GLL are taking this seriously with a growing dedicated tennis workforce already working across the network and engaging communities in all walks of life. GLL have already launched their own tennis apprenticeships and have positioned tennis managers in all key venues. GLL have embraced LTA initiatives such as the popular Great British Tennis Weekends and were the leading provider of Tennis Tuesdays, designed to get more women back into the sport.
GLL also have a very strong community sports team who can carry the tennis message beyond normal reach. New tennis programmes have popped up at empty parks and sports halls all across GLL's venues. In fact they have tripled the number of tennis programmes they offer with the number of people having regular tennis lessons increasing from 900 in 2014 to 2500 today.  
Alastair Marks, LTA Participation Director said "Over the past three years, the LTA and the Tennis Foundation have been working in partnership with GLL to support them to develop an operational model for tennis and to create and implement the right insight-led programmes to grow tennis participation.
"GLL have demonstrated that with innovation, drive and the right workforce they can quickly impact upon tennis participation rates and ensure facilities turn a profit and are sustainable in the long term.
"Crucially, GLL are also working closely with us to take tennis to new markets by improving the tennis experience offered in parks and establishing programmes within their network of Better Leisure Centres."
When a large company such as GLL move out to embrace an area of the market it can spell fear in some circles but GLL's motivations are entirely different from a private trading company. As a worker owned charity with no shareholders to pay, all surpluses are re-invested in facilities and services. GLL represent an ethos and objectives that are very much shared by the LTA and the Tennis Foundation - making a difference in the communities we operate in and using the vehicle of sport to do this whilst also offering an affordable, accessible and high quality service in its facilities.
GLL's emergence in tennis can only be a good thing. Improving service and facilities for players, making tennis accessible in parks and community venues, a dedicated team of tennis experts, a tennis network that offers services to all players on the spectrum all with the outcome of ensuring the sport can grow, be sustainable and flourish.
Although a new player on the scene, GLL can play a crucial role in British tennis moving forward and produce stars of the future but also set precedence for how operators can work in unity with the governing bodies, local authorities, trusts and other charitable organisations.