GLL to make sport and leisure in Bath more family friendly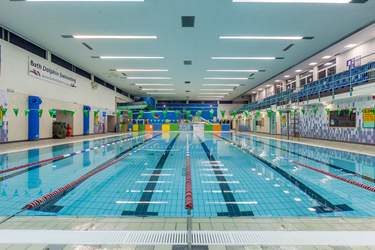 An £8m investment in sport and leisure in Bath will re-focus activities to make the city's offer to residents more family friendly, diverse and sustainable. Plans for Bath Leisure Centre aim to significantly increase participation in local sports and leisure activities attracting more people into the leisure centre by putting fun at its heart.
Developments will include a larger modern fitness suite, a new trampoline park, a new learner pool, children's soft-play, and the introduction of ten-pin bowling.
At the same time, a range of activities for older people and those with limited physical ability will also be provided. The new activities will take place within the existing footprint of the Bath Leisure Centre, meaning indoor bowls will no longer have a dedicated space, however there will be short mat bowls alongside more activities for the visually impaired in the main hall. At the same time, squash players will move to dedicated facilities elsewhere with the help of transitional funding provided by Bath City Council.
Peter Bundey, Deputy Managing Director at GLL said: "GLL is the UK's leading charitable social enterprise and the largest provider of public leisure centres and pools.
"We have successfully modelled this multi-use approach in other parts of the UK and are committed to providing the highest standard of leisure for the public and good value for our council partners.
"The changes will allow us to welcome even more local people into Bath Leisure Centre in the coming years, providing the modern, high-quality facilities the city deserves."
The works will start this summer, and will be completed by August 2017.