GLL Wins Cornish Leisure Contract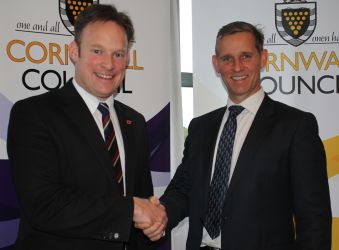 GLL – the UK's largest leisure charitable social enterprise – has won the contract to deliver Cornwall's network of leisure centres and sports facilities on behalf of Cornwall Council.
The centres will be renamed under GLL's consumer brand, 'Better' and customers will benefit from a new leisure card to improve physical activity and allow membership across all sites.
The 25 year contract, with 15 facilities and attractions generating over £10m annually once developments have been completed, starts on 1 April 2017 and will see members and non-members choose from a range of fitness offers – including membership of the country's largest swim school.
The contract brings £23m of investment including £7.5m to be spent initially across seven centres (Newquay SC, Bude, Polkyth LC, Truro LC, Dragon LC, Saltash LC and Helston LC).
As a charitable social enterprise, GLL has no shareholders to pay. Instead, any financial surplus is invested in facility improvements and boosting community engagement in sporting participation.
It is expected to increase general membership by thousands and boost swim school membership.
Talented young athletes will be identified for financial and training support through the GLL Sport Foundation – the fund this year sponsored a total 45 athletes at the Rio Olympic and Paralympic Games, winning a total of 20 medals between them.
GLL MD Mark Sesnan said: "We are delighted to bring our near quarter century of experience and depth of knowledge of running leisure services to the residents of Cornwall.
"Cornwall will be the latest region to be added to our growing network of centres from Belfast to Cardiff to Cumbria.
"We exist to get more people more active more often and are proud to show the difference our charitable social enterprise model will bring to leisure in Cornwall."
Announcing the decision Adam Paynter, the Council's Cabinet Member for Resources said: "We have always made it clear that we want to keep leisure centres open in Cornwall but without an ongoing subsidy from the Council. By taking the initiative, carefully considering all the options and then going through a vigorous tendering process, we are confident that in awarding this contract to GLL we will secure the future of the Council's leisure facilities.
The excellent staff that already work in our leisure centres will transfer over to the new operator on their existing terms and conditions."
The Cornish contract adds 750 full and part time staff to GLL's national network of over 250 leisure centres and 12,500 staff, offering unparalleled training opportunities.
Up to 300 work experience placements and 200 volunteering opportunities will be offered across the contract term.
GLL started life in 1993 with one leisure centre in Greenwich, London and has expanded rapidly since then, to become today's federated regional network of sport, leisure, childrens centres and libraries.
It has invested £6.1m in sponsoring 10,600 elite athletes via the GLL Sport Foundation.
The Cornish contract means even more people will have affordable access the UK's largest network of public leisure facilities which continues to grow its national presence in communities across the UK.
The leisure portfolio consists of:
Bodmin Dragon
Bude Splash
Falmouth Pavilions Gyllyngdune Gardens
Falmouth Ships and Castles
Helston Sports Centre
Launceston Phoenix
Liskeard Lux Park
Newquay Sports Centre
Newquay Waterworld
Par Pavilion and Running Track
Saltash
St Austell Polkyth
St Ives
Truro
Wadebridge
 For more information, please contact Charles Dean, Corporate Communications Manager, GLL (charles.dean@gll.org)