Guardian's Sally swims for free after 50 day swim challenge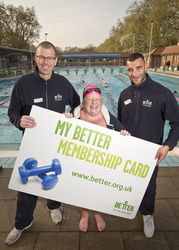 Guardian blogger and swim supremo Sally Goble was presented with a year's free Better swim membership courtesy of GLL on 24 April at London Fields Lido, following her impressive 'swim a mile a day for 50 days challenge'.
Sally took the challenge to mark her 50th birthday and has documented her swimming journey over the past 50 days for the Guardian. The challenge has seen Sally drive 768 miles, swim over 56 miles and make a lot of friends along the way, including those at GLL who have keenly watched Sally's progress throughout.
Over 75 per cent of the pools that Sally swam in during the challenge are run by GLL under their 'Better' brand, including London Fields Lido, York Hall, Cally Pool, Leyton Pool and the London Aquatics Centre in Queen Elizabeth Olympic Park, where Sally swam on her 50th and final day of her challenge as part of the Swimathon on 19 April.
Sally said, "People keep asking me which pool was my favourite but really it's impossible to choose - every pool had a different character. Some were old and beautiful, some lively and really well used, some nice and long, and some were quiet and tranquil - and some had really great opening hours. You really can swim all over London!"
Mark Sesnan, Managing Director, GLL, said, "It's an honour to be able to give this gift to Sally to say happy 50th birthday. Sally has done a tremendous job in encouraging healthy and active living as well as raising money for cancer along the way. Our mission at GLL is to get more people, more active, more often and we are delighted that Sally is such a positive example of this. We hope she has enjoyed using our pools across London as much as we have enjoyed hosting her and cheering her on."
Sally Goble is raising money for the Royal Marsden Cancer Charity. You can donate at Justgiving.com/50SwimsIn50poolsIn50Daysat50/. Read about her swim challenge journey: http://www.theguardian.com/profile/sally-goble.