London Aquatics Centre welcomes its one millionth visitor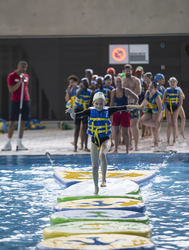 The London Aquatics Centre (LAC) on Queen Elizabeth Olympic Park is celebrating the arrival of its one millionth visitor this month.
Since the LAC first re-opened to the public in March 2014, the former 2012 Olympic and Paralympic venue has proved hugely popular with both elite athletes looking for a venue in which to train and the local community.
Over 2,000 local school children now use the pools at the  Aquatics Centre on a weekly basis, with a further 3,300 youngsters having signed up to the venue's Better Swim School programme.  In addition to being the training base for British diving champion Tom Daley, the Aquatics Centre is also home to the Tom Daley Diving Academy, which currently has 520 pupils on its books.
The venue has been successful in encouraging a variety of use by local communities and day visitors.  Particularly popular among families and regularly sold out, are the Extreme Aqua Splash sessions, which involve a water-based assault course of inflatable objects and take place on weekends and public holidays. 
For those who enjoy lane swimming and want to improve their fitness, extended opening hours (6am to 10.30pm) mean that it is easy for visitors to fit a swim around work, family or educational commitments. Women only sessions are also offered, while the centre participates in Healthwise, a GP referral scheme that uses supervised, regular exercise to help a patients' rehabilitation.
The venue, which is operated by charitable social enterprise GLL on behalf of the London Legacy Development Corporation (LLDC), also funds disability swimming lessons in partnership with the children's charity Level Water and facilitates a High Performance Swimming Programme for young talented athletes, in association with the Amateur Swimming Association, LLDC and University of East London, led by renowned swimming coach Lisa Bates.
The past 18 months have seen the Aquatics Centre make its mark on the national stage, hosting a number of major sporting events including: BBC Sport Relief, the FINA Diving World Series, National Paralympic Day, the Invictus Games and the British Swimming Championships.
 Peter Bundey, Deputy Managing Director at GLL, said: "To welcome over a million visitors to the London Aquatic Centre demonstrates its huge popularity not just amongst elite athletes but also recreational swimmers and members of the local community.  It also highlights the fact that the London 2012 Olympic and Paralympic legacy is alive and well.
 "The building's incredible architecture and its location in Queen Elizabeth Olympic Park has made it a 'go to' sporting and leisure destination. Not only offering Team GB athletes a truly World Class training base but also giving recreational swimmers and budding competitors the opportunity to swim alongside their sporting heroes.
David Goldstone, Chief Executive, London Legacy Development Corporation, said: "The London Aquatics Centre has proved to be an amazing success. In just over a year we've had more than a million people through the doors, from local children learning to swim to Tom Daley perfecting his dives. We've hosted local school swimming galas and international diving competitions, and we'll be hosting the European Aquatics Championships next year.
"The success of this venue is mirrored in Queen Elizabeth Olympic Park, which has had nearly 5 million visitors since we started opening in July 2013. This is all part of our plan to create a new heart of the city with world class sporting venues open to the community as well as new homes and jobs."
Sport England Property Director, Charles Johnston said, "The Aquatics Centre was designed to be a venue for world class swimming competitions and a facility for the community to enjoy every day, that's why we invested National Lottery funding in the centre. We know the Games were a huge success, so it's particularly satisfying to see that so many people have taken the opportunity to swim in one of the best pools in the world.   This amazing facility is a real and tangible legacy for future generations.
"The centre's flexible opening hours, school and family-focused events and supportive environment is a major part of its early success, and I look forward to seeing that develop further in the coming years."
Teacher, Luke Donnellan from Invicta School, Royal Borough of Greenwich added: "The London Aquatics Centre is a spectacular venue and a fantastic resource for schools"