Royal Borough and GLL celebrate ten years of 'Healthwise'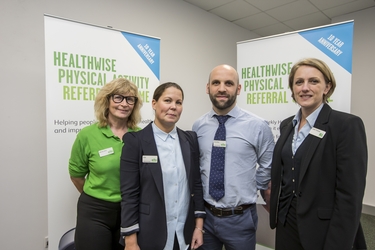 Friday, 5 December 2014: A pioneering scheme that helps improve the health and wellbeing of the local community in the Royal Borough of Greenwich through the take up and maintenance of physical activity, has celebrated its tenth anniversary. The celebration event for the Healthwise Physical Activity Referral Scheme was hosted at the Waterfront Leisure Centre in Woolwich this week by GLL, the UK's largest leisure charitable social enterprise, who operate the scheme in partnership with the Royal Borough of Greenwich and NHS Greenwich Clinical Commissioning Group.
The event was attended by a number healthcare professionals and local authority representatives, as well as GLL Healthwise facilitators and participants. A special tenth anniversary film was showcased on the day, which included personal success stories from participants who have benefitted from the scheme over the years.
For the last ten years the Healthwise scheme has enabled health professionals such as GPs to refer patients with existing medical conditions to benefit from specially-designed, low cost exercise sessions in various GLL leisure centres across London. Originally operating within five GLL leisure centres across Greenwich, the scheme is now delivering better health interventions in 17 GLL partnerships across London and the UK. Participants are offered subsidised membership after taking part in a tailored programme lasting from 12 to 26 weeks, giving them access to both Healthwise and other health and fitness activities offered at GLL sport and leisure facilities.
Healthwise participant Ermine, who was at the event, said, "I have been coming to the Healthwise classes for over six years now. I love this class and look forward to it each week. If it hadn't been for the exercise offered on the scheme, I would not be standing."
Chris Symons, Director of Development, GLL, said, "We are delighted to be celebrating the tenth birthday of the Healthwise service, which has been very successful in breaking down barriers to participation and tackling health inequalities through health and fitness. As a charitable social enterprise, we are committed to getting more people, more active, more often, and believe that health - good or otherwise - should never be a barrier to participation.
"The service not only provides a range of physical activity options that have developed confidence, skills and motivation among our participants to become and remain physically active, but also delivers life changing interventions – successfully helping those who have a health condition turn their lives around."
Cllr Maureen O'Mara, Cabinet Member for Community Well-being and Public Health, Royal Borough of Greenwich, said, "The benefits that physical activity can bring to the health of the population are widely accepted and understood. When Greenwich launched the Healthwise scheme ten years ago, it was certainly ahead of its time – and it's not surprising that it has been picked up by other boroughs.
"The partnership that's been created between the local authority, GLL and the local NHS, has helped establish a scheme that is extremely successful in enabling GPs and other health professionals to refer their patients to something that they know will improve their health – and which is extremely cost-effective."
------ENDS-------
About Healthwise
The Healthwise Physical Activity Referral Scheme is operated by GLL in partnership with NHS Greenwich and the Royal Borough of Greenwich, to help improve the health and wellbeing of the local community through the take up and maintenance of physical activity.
In Greenwich over 14,000 participants have been referred onto the programme in the last 10 years, with over 380 referrers to the service, from over 75 GP practices and local hospital departments.
Healthwise has been awarded the 'ISPAL Health Recognition for Physical Activity Award' twice, and was commended for its service to the local community.
There is a high success rate for individuals going through a Healthwise intervention in a GLL facility in London and across the UK over the 12 week programme. In 2013-14 over 61% of those who received a one to one lifestyle intervention successfully completed a 12 week programme.
There is evidence of positive physiological and psychological changes in body weight, mean arterial pressure and well-being for those who complete the scheme.
There is a significant increase in level of physical activity, as measured by the number of minutes of moderate levels of activity per week.
There are statistically significant improvements in quality of life scores and physical activity levels, 6 months after completion of the scheme with more patients doing moderate level activity.
External evaluation has confirmed that Healthwise has successfully targeted unemployed and retired patients onto the scheme, addressing potential financial barriers to the access of physical activity in the community.
Notes to the editor
About GLL
Established in 1993, GLL is the largest UK-based charitable social enterprise delivering leisure, health and community services. We operate over 145 public sport and leisure centres and 27 libraries (including three prison libraries), as well as children's centres, in partnership with over 30 local councils, public agencies and sporting organisations. Our leisure facilities enjoy more than 39 million visitors a year with over 490,000 members.
Alongside its core leisure and library divisions, we also operates in sport and legacy development, health intervention and education - as well as offering the GLL Sports Foundation, one of the largest independent support programmes for talented young athletes in the UK.
For further press information
Donna Mitchell
PR & Communications Manager, GLL
Mobile: 07813 458 258