Social Enterprise Day - GLL says 'Thank you!'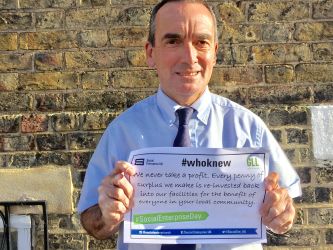 GLL – the UK's largest leisure charitable social enterprise is celebrating Social Enterprise Day (17 November) with a big 'Thank You!' to its customers following a fabulous year of achievements for communities, customers and athletes.
Starting in March, GLL members and staff helped raise a whopping £400,000 for Sport Relief – the first time a charitable social enterprise has taken this partnership role with the nation's largest charity fundraiser.
Among the amazing sporting challenges completed was a World Breaking Doubles Tennis Match at The Vale of White Horse Leisure Centre in Oxfordshire and the country's largest indoor exercise class – 'The Better Bike Challenge' - which saw 10,000 people across the UK donate a pound each and cycle a mile for charity.
The much vaunted 'Summer of Sport' followed with the hotly anticipated Rio Olympic and Paralympic Games where GLL sponsored athletes bagged a haul of 20 medals, enhancing GLL's Olympic legacy since taking over management of the London Aquatics Centre and Copper Box Arena.
The victorious sportsmen and women - including Team GB's hero of Taekwondo, Lutalo Muhammad - returned in time for the Nation's Biggest Sportsday 'I am Team GB'. GLL hosted a day of family-friendly try-outs, free demonstrations and fun sessions over a variety of sporting activities.
This summer, Disney's 'Finding Dory' was also the lure for thousands of children to visit their local pool this summer for a dip - and also collect their free toy.
October saw Social Saturday celebrated at GLL's Witney Leisure Centre with stall holders representing local employers, crowdfunding organisations and health advisors.
In November, 750 attended the Better Club Games, dubbed the 'Over 55s' Olympics', at London's Copper Box Arena. The tournament saw teams from GLL's leisure centres all over the UK come together to compete in badminton, table tennis, bowls, short tennis, darts, cycling and swimming.
As a social enterprise, GLL takes no profit and has no shareholders to pay. Instead, any surpluses are ploughed back into upgrading affordable facilities, boosting accessibility and inclusion, community sports engagement and boosting participation.
GLL MD Mark Sesnan said:
"We want to say a big 'Thank You!' to our many millions of customers who have chosen to spend their money with us.
"We never take a profit, every penny of surplus we make is re-invested back into our facilities and services for the benefit of everyone in the community.
"I'm particularly proud of the success our social enterprise has brought to leisure, getting more people more active more often in communities across the UK."
Notes to editors:
GLL's 40 million annual customers have chosen to 'Buy Social' over a number of memberships, spa days, pay & play bookings, lessons & courses and gift cards.
GLL buys responsibly, involving other social enterprises in its supply chain wherever possible and employing locally.