GLL announces new partnership with Disability Sports Coach to improve disability provision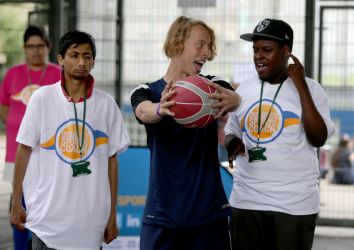 Leisure operator and charitable social enterprise GLL has signed a partnership agreement with award-winning charity Disability Sports Coach (DSC).
The two organisations already work together, providing opportunities for disabled people to take part in sport and physical activity at seven GLL venues in London. The new partnership agreement is based around the creation of Community Clubs, which offer a range of sports-based activities tailored to meet the needs of disabled people.
Community Clubs are designed to be fun, accessible sports clubs and provide Paralympic and multi-sports for disabled people aged 11 and over. Fully accessible, they provide DSC specialist coaches, volunteers and equipment to ensure that activities are suitable for people with a wide range of needs.
The new partnership agreement will see the Community Club model rolled out to additional GLL-operated leisure centres across the UK during 2017.
DSC will also deliver its LIVE programme through five GLL leisure centres in London, including Sobell Leisure Centre, Brixton Recreation Centre, Kensington Leisure Centre, Britannia Leisure Centre and Poplars Baths Leisure Centre.
The LIVE initiative is designed to help organisations such as schools, colleges and community groups to become more physically active through supported gym sessions, energetic studio classes, sports sessions or brisk health walks.
Katie Ellis, National Community Engagement Manager at GLL commented: "As a charitable social enterprise one of our key objectives is to improve accessibility to sports and leisure facilities for all sections of society. Partnering with Disability Sports Coach will enable us to do this and we look forward to rolling out both the Community Clubs and LIVE initiatives through the leisure centres we operate across the UK in 2017 and beyond."
Peter Ackred, CEO of Disability Sports Coach said: "Even with recent progress disabled people still face a wide range of barriers to taking part in sport and physical activity and have a much lower participation rate than non-disabled people*. Our partnership with GLL will bring together a commitment from both organisations to provide more accessible opportunities for disabled people in local facilities and provide a platform to develop new innovative ways to deliver this."