GLL CELEBRATES SOCIAL ENTERPRISE WEEK IN LIBRARIES WITH LARGEST EVER 'DOG READ'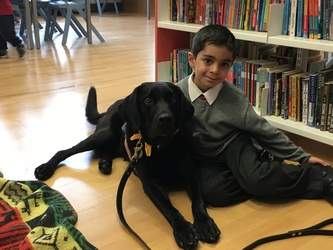 In what is believed to be an unofficial world record, GLL, the UK's largest social enterprise charitable leisure provider is holding a mass 'Dog Read' in public libraries across Lincolnshire, Dudley, Wandsworth and Greenwich.
The initiative - during Social Enterprise Week (9-14 October) – takes its inspiration from the joy of reading and the country's love of dogs. Put together, they create the perfect setting for engaging young minds in animal-themed reads and promoting a positive attitude to reading at a young age.
6-11s are reading doggy tales to hushed hounds in libraries across the country and enjoying a canine cuddle at the same time.
Diana Edmonds, OBE, Head of Libraries, GLL said:
"We want young people to get into the 'library habit' for all the benefits it brings and our Dog Reads are an opportunity to capture young imaginations in a completely new way.
"Some children who are shy about reading aloud to an adult do not have the same reservations when reading to a happy dog.
"From the looks on the childrens' faces and the number of waggy tails – it's already looking like a huge success."
10 sessions featuring over 30 dogs and up to 200 primary school children will take part during Social Enterprise Week.
Participating libraries' dog-themed reads extend the success of the Summer Reading Challenge which this year took as its inspiration 'Animal Agents'. Over 5,000 young people completed the SRC in GLL's libraries.
Participating libraries for GLL Dog Read 2017:
Louth, Lincolnshire
Market Rasen, Lincolnshire
Tooting Library, Wandsworth
West Library, Greenwich (in partnership with James Woolf School)
GLL is the UK's largest public libraries provider and aims to keep libraries open and increase footfall with an engaging and relevant library offer across books, e-books, DVDs, free Wi-Fi, guest authors, homework clubs, parent & baby groups and social groups for senior citizens.
Social Enterprise Week coincides with National Libraries Week - the annual showcase of all the creative, innovative and diverse activities that UK libraries have to offer.
From 9-14 October, GLL Libraries are providing a range of fun and educational activities, from play and learning for children, to managing your health, to accessing wifi and games, to finding a job, a hobby or starting a business.
During the week we are being visited by authors: Gareth P Jones, Irena Brignull, Elisa Marcella Webb, Joseph Coelho and Paul Geraghty.