GLL to launch GLL's biggest Extreme sports facility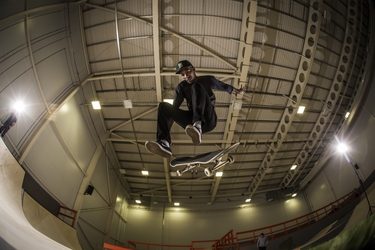 27 April 2015: The UK's largest leisure charitable social enterprise GLL, are skating into action on 5 May 2015 with the opening of an iconic Extreme sports facility at Barking Sporthouse and Gym, featuring London's biggest indoor skate park and a unique climbing wall that will be operated under the 'Better' brand.
The skate park will offer over 900 square metres of skate ramp terrain, with a beginners area and street zone with ledges, 'flat bars' and 'Euro-gaps', and London's first key-hole Birchwood bowl. On the same day, GLL will also launch a climb facility that will provide a number of fun adventure climbing walls designed to be multi-generational, appealing to both children and adults, climbers, BMX'ers and skaters alike.
Chris Symons, Director of Development, GLL, said, "As a charitable social enterprise that works to engage our local communities in sports participation, we understand the need to support young people in pursuing an active, healthy lifestyle by taking part in the activities they enjoy like skating and climbing – and we know there is not enough indoor skate facilities in London for them to be able to do this.
"The new flagship facility sees GLL going beyond our core leisure offering, diversifying into number of new alternative sports activities that will soon be available in other facilities that we operate across the UK. We will also be launching London's first Trampoline Park this summer at Barking Sporthouse and Gym, another unique and safe way for everyone to get active and have affordable fun."
Look out for the new Extreme facility website soon, and for more information, visit: www.GLL.org.
---Ends---
Notes to the editor
About GLL
Established in 1993, GLL is the largest UK-based charitable social enterprise delivering leisure, health and community services. We operate over 170 public sport and leisure centres and 28 libraries (including five prison libraries) in partnership with over 30 local councils, public agencies and sporting organisations. Our leisure facilities enjoy more than 40 million visitors a year with over 490,000 members.
Alongside our core leisure and library divisions, we operate in sport and legacy development, health intervention and education - as well as offering the GLL Sports Foundation, one of the largest independent support programmes for talented young athletes in the UK.