GLL Wins National Training Award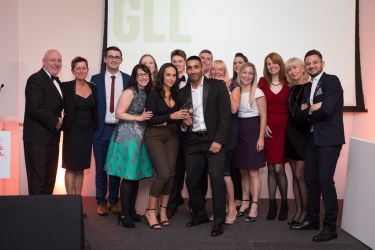 Leisure operator and charitable social enterprise GLL has been recognised at the annual UK Active Awards, for the training it supplies through its innovative Supervisors Academy Scheme.
One of six finalists, GLL impressed the judges with its unique learning and development initiative, designed to support succession planning and enable business growth by developing professionally qualified, supervisors and managers.
The Chartered Institute for the Management of Sport & Physical Activity (CIMSPA) aligned Supervisors Academy combines the completion of a national leisure qualification with applied learning within a business context and is part of the organisation's wider Learning and Development strategy.
Commenting on the award, Lorraine Patrinos GLL's Associate Director of Learning & Organisational Development said: "As a social enterprise one of our key objectives is to create job and career opportunities for local people, while establishing clear career pathways from within. And because of our social enterprise status we reinvest financial surpluses back into staff training.
"Our vision for the future is that all GLL managers are qualified leisure professionals and that we provide the opportunity to achieve recognised qualifications to our workforce at all levels."
Steven Ward, UK Active Executive Director said: "Augmenting a world-class workforce is one of the biggest priorities for the physical activity sector as we seek to unlock its latent potential and transform the health of the nation."
Mac Cleves, Head of GLL's College also received an individual nomination for the work he does to bring training and careers in leisure to more people.
The annual UK Active Training Awards recognise organisations and individuals within the physical activity sector who are leading the way in skills and workforce development.