GLL worker becomes Iron Athlete racing 'Outlaw'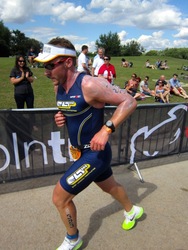 GLL senior manager Gareth Kirk had a well needed rest this week, after completing the gruelling 'Outlaw Triathlon 2014' at the weekend (27 July). The event, based at the National Water Sports Centre in Nottingham, consisted of a 2.4 mile swim, 112 mile bike ride and 26.2 mile marathon.
Gareth, Regional Manager for a number of GLL leisure facilites, completed the swim and bike ride in 11.29.08 hours, and to top it off, still managed to complete the marathon in just 4 hours. The news comes not long after GLL, the UK's largest leisure charitable social enterprise, won the title at the 'Fittest Place to Work' at the '5k your Way' race in London last month.
"It feels great to have completed such a physically demanding challenge. I have been training for six months solid, with a great club the East London Triathletes, and have received excellent coaching from Martin Bay, so was well prepared for a long day of full-on racing," said Gareth. "I can certainly recommend it to anyone who wants a big challenge and is willing to put in some hard training and push themselves, and thank you to everyone that supported me in the process."
Mark Sesnan, Managing Director, GLL, said, "Our mission at GLL is to get more people, more active, more often, and its great to see that Gareth has lived by this to embrace such a physical challenge, as well as finishing in great time. The news comes very soon after GLL won 'Fittest Place to Work' at the '5K your Way' race in London this June, so provides another example of how our staff are clearly living and breathing an active and healthy way of life. Well done Gareth."
For more information on how to sign up for the challenge in 2015, visit http://www.onestepbeyond.org.uk/the-outlaw-triathlon.php or to find out more about GLL, visit www.gll.org.