Rewarding excellence at the GLL Awards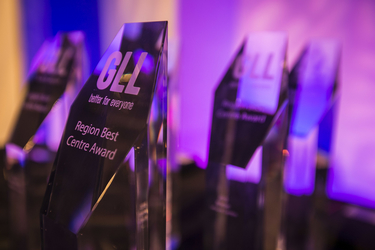 GLL, the UK's largest leisure provider and leading leisure charitable social enterprise, held its first annual dedicated awards ceremony to celebrate the accomplishments and successes of individuals and teams from across the board. Those recognised represented GLL's myriad services including front-line leisure operations, libraries, health & wellbeing and business support.
People are at the heart of this not-for-profit organisation and the awards provided a platform to recognise and reward those colleagues who have made a difference to their workplace, their colleagues and the community. 
The 23 winners at the Awards dinner in Porchester Hall were each commended for service excellence and good practice -helping continue to raise the high standards that GLL strives for. The 18 award categories recognised people and teams who have made positive contributions in everything from the environment through to lifesaving, management and community engagement.

Lorraine Patrinos, Associate Director of Learning and Organisational Development at GLL, said:

"At GLL, we've always focused on staff development and training. We're committed to helping our people to achieve more and be the best they can be – whatever their level or discipline. The GLL Awards are a great way of saying 'thank you' to people that really live the GLL ethos and make things better for us and the communities that we serve."
The winners were all shown to have gone beyond their principal role of supporting the operation of community facilities and services, whether that's providing business support or working to improve community welfare, healthy living and education.
GLL staff were encouraged to Tweet their thoughts throughout the event:
@AlexWHarrison said "Nights like these are why I love my job with @GLL_UK".

The night also helped raise over £2,000 for Sport Relief. GLL is the official health and fitness partner for Sport Relief 2016, raising £500,000 to transform lives in the UK and abroad.
For a full list of winners, go to: www.gll.org/awards Find out more about how GLL and #TeamBetter are raising money for Sport Relief at: www.better.org.uk/sportrelief